Welcome to The Heights
The Houston Heights, known simply as "The Heights" is located a mere 6 miles northwest from downtown Houston. The area oozes charm and old world character. You'll find homes here, the design of which, you will find no where else in Houston. The Heights is becoming increasingly popular especially amoungst young professionals and families who work downtown, want a short commute, and don't want to spend big money for the ability to do so. It's also a handy reverse commute for the Energy Corridor.

The area has a cool, funky vibe and is home to the highest concentration of artists in Texas.
Search Tips
Use zip code 77008.
Or use HAR Geo Market "Greater Heights/Shady Acres"
History
The Heights is one of Houston's most historical areas with origins dating back to 1891. The land was developed to attract people who did not want to live in the denser city. It was one of the first master planned communities in Texas. Following World War 2, the area went into decline but has seen a huge revival since the 1990's and currently enjoys a status of being one of the most popular neighborhoods inside the 610 loop.
Boundaries
The Greater Heights area is bordered by I10 to the South, 610 to the North, Shepherd to the West and North Main and Studemont to the East.
Population, Location and Commute
The Heights and 77008 zip area is home to around 40,000 residents. Being only 6 miles from downtown Houston, the commute is around 15 - 20 minutes. Sandwiched between the 610 and I10, freeway access is easy. The Galleria is around a 10-15 minute commute and the Energy Corridor is around 20-25 minutes but longer in peak traffic.
Home Styles
The area has seen a huge revival with old cottages being demolished or renovated. Stunning, farmhouse style, two story homes are common. But in keeping with the area charm, homes in the Historic Heights district have had to comply with strict building design requirements. You'll therefore see streets lined with with southern style homes, clad with all colors of hardy plank siding with large breezy porches. Older cottages dot the neighborhood, with some having seen beautiful renovations.
Townhomes are also springing up but are in greater concentration West of Shepherd in Shady Acres.
Zip 77008 also includes Timbergrove and Lazybrook which is characterized by older one story ranch style homes.
Amenities
The Heights is famous for its laid back charm and this is reflected in some of the one of a kind restaurants and coffee shops in the neighborhood. 19th Street is home to quirky stores and antique shops. Downtown Houston is on the doorstep making theatre and entertainment options several minutes away. Pocket parks dot the area and residents can enjoy the Heights Walking and Bike Trail which connects with trails leading into downtown. Buffalo Bayou Park and Memorial Park are close by. The Heights has a high walkability factor.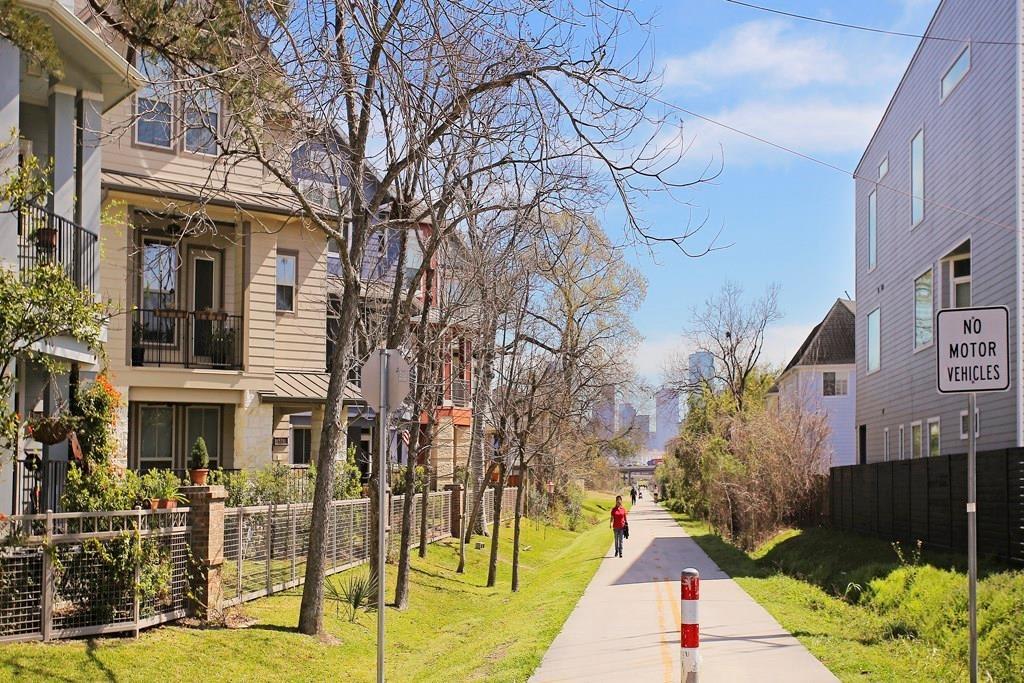 The Heights Hike and Bike Trail is very popular with local and connects with other bike trails all the way into Downtown.
Schools
The area is served by several schools depending on which section you live. These schools all fall under HISD and include Field, Harvard, Travis and Love Elementary Schools. Hamilton and Hogg Middle Schools. Waltrip High and The Heights High School are the two high schools. Carnegie Vanguard High School is nearby.
Private schools close by include Awty International, Duchesne, Regis, St Thomas and Incarnate Word.
Nearby Neighborhoods
Oak Forest and Garden Oaks - 77018
Rice Military/Washington Avenue/Cottage Grove - 77007
Home Prices
For an inner city neighborhood, the Heights is an affordable option with the average home price around $782,500. Homes are generally smaller than in other nearby neighborhoods - around 2318 sf. An average home has 3 bedrooms. Lots can be small with many around 3300sf. Average rent is $2750

There are also some very good apartment options in the area with rental prices around $2500 and up for a decent 2 bed.