WELCOME TO WEST UNIVERSITY
West University Place, known locally as West U, is one of the most popular areas to live inside the 610 loop. It is actually a city within the City of Houston and as such has it's own police and fire department, city offices, council and services. Families flock to this neighborhood for the highly ranked West U Elementary School, multiple parks and amenities but you'll find residents of all ages live here. Given it's proximity to the Texas Medical Center, it's very popular with medical employees. West U is known for it's small town community feel and you'll often see people out walking or jogging and the kids riding their bikes.
SEARCH TIPS
Use West University Elementary (although this pulls in some sections that are not part of West U City)
Use 77005 (this also pulls in some sections east of Rice Village which are not part of West U City)
HISTORY
In 1910, the area where West U sits today was nothing more than a muddy swamp. Ben W Hooper, then Governor of Tennessee bought up the track of land which was then parceled and sold in 1917 by AD Foreman of the West End Realty Company. The proximity to Rice University gave the area the name and subsequent streets were named after universities across the nation. by 1924, when the City of Houston refused to bring utilities to the area, Foreman spent $100,000 of his own money to invest in the area. Eventually residents, dissatisfied with muddy streets and inadequate amenities, worked to turn West University into it's own City. Over the years that small town governance and civic minded residents have continued to work to turn what West U is in the present day. The proximity to major commercial and transportation hubs has resulted in property prices growing with land in West U being some of the most valuable in the greater Houston area.
BOUNDARIES
West U is bordered by Holcombe Boulevard to the south, Kirby to the East, the railroad tracks in the west and mostly Bissonet to the north. A small section of West U known as the Chimney sits north of Bissonet where the boundary sits along the middle of Law Street. Southside Place is tucked in the middle of West U but is it's own City with it's own amenities. It still zones into West U Elementary though.
POPULATION, LOCATION AND COMMUTE
West U is home to around 15,000 residents. It is so close to the Medical Center that some people cycle there. But the drive is 5-10 mins. Downtown is under 15 mins. The Energy Corridor is a reverse commute and is about 25 mins outside of peak traffic. The 59 can easily be accessed from the north of West U whereas residents in the south will jump on the 610 from Bellaire Boulevard.
NEARBY NEIGHBORHOODS
Southside Place
Braeswood, Bellaire
Southampton
Southgate
Boulevard Oaks
HOME STYLES
Single family homes dominate thanks to strict zoning and West U specific building codes. Historically the area was mostly pre war cottages. Some have been renovated but given the land value, most are torn down and larger homes are build in their place. You'll find a mix of homes from all the ages - timeless brick homes, more modern stucco homes and homes clad with hardy siding. The older the home, the smaller they tend to be. New construction has to maximize the build size given the land cost so the smallest new construction can be around 3800sf. Townhomes and patio homes are available but tend to line to outer edges. There are no apartments in West U but some of the nearby apartments zone into West U elementary.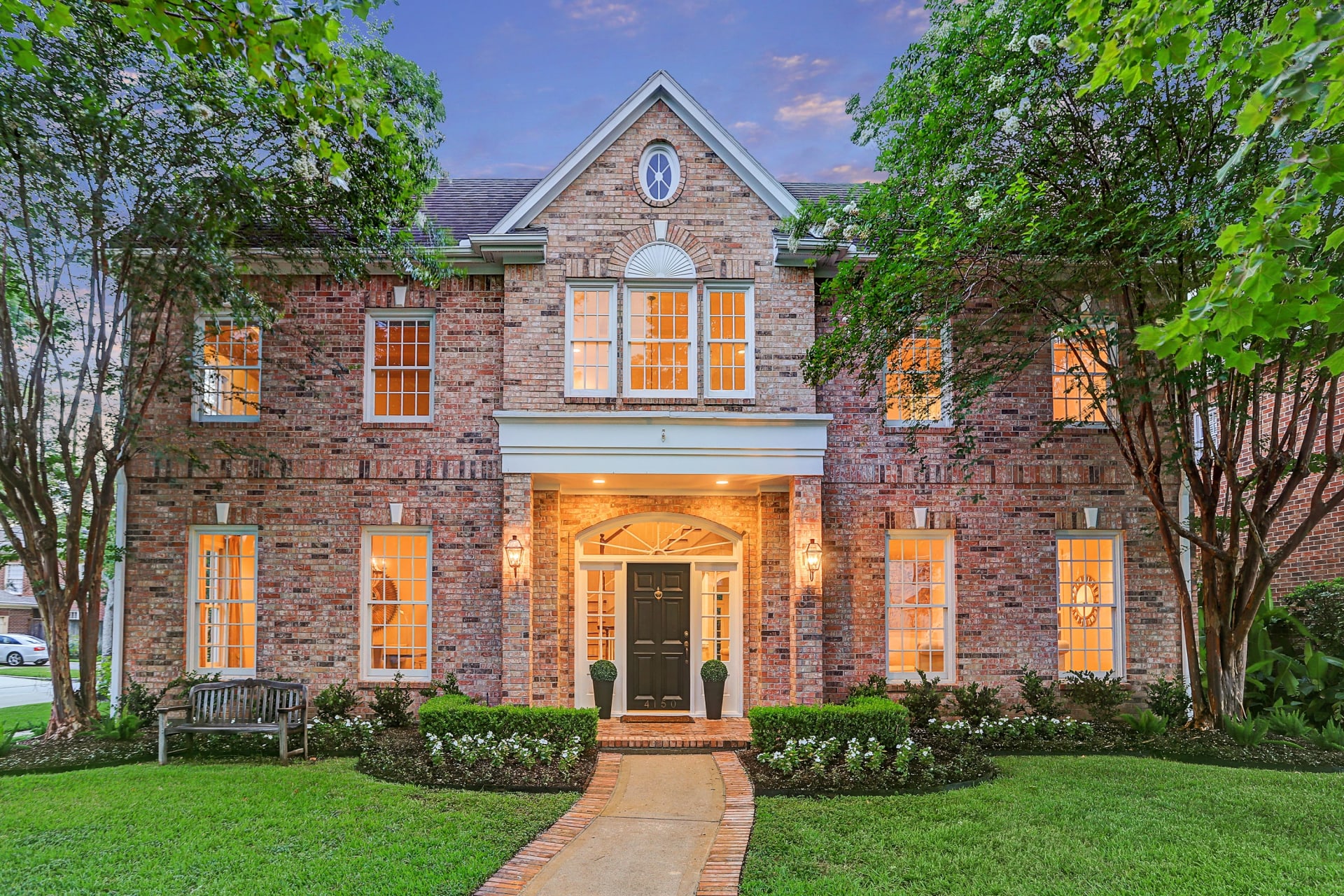 A classic West U brick home.
AMENITIES
West U has it's own small city center home to few restaurants including the famous Tinies and Little Matts. There is even a very cool hole in the wall Coffee Bar run by Tinies.
There are several parks, some with tennis courts, a summer pool and splash park and a Recreation Center which has a pool open to residents year round.
Rice Village is walkable for many residents where you'll find an abundance of places to eat, have coffee and shop including West Elm, Gap, Banana Republic and more.
West U has it's own Little League which is hugely popular. The Galleria is about 10 mins away, one of the largest shopping malls in the US.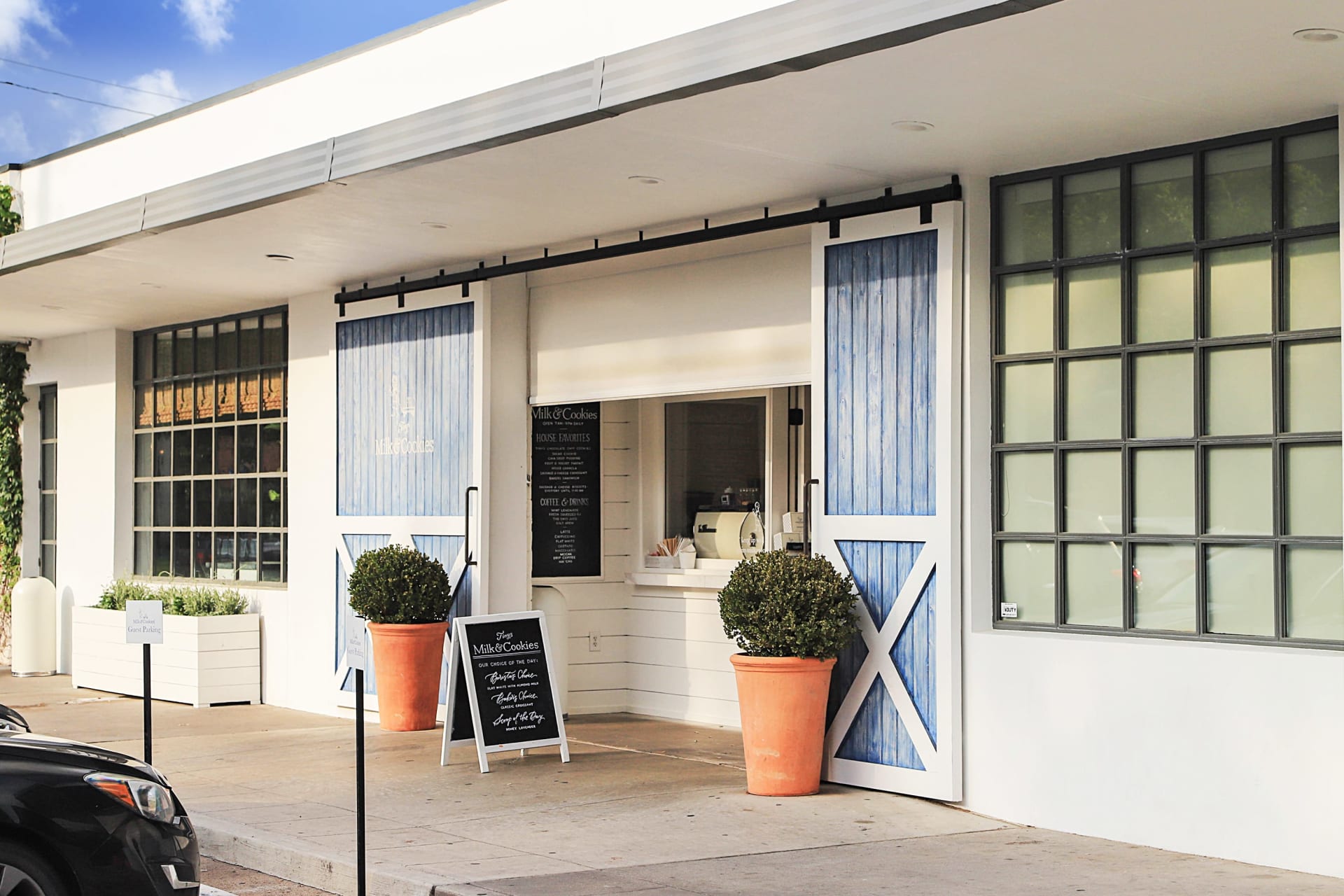 Tinies is a local favorite with it's hole in the wall coffee bar. Kids cycle here to get cookies and ice-cream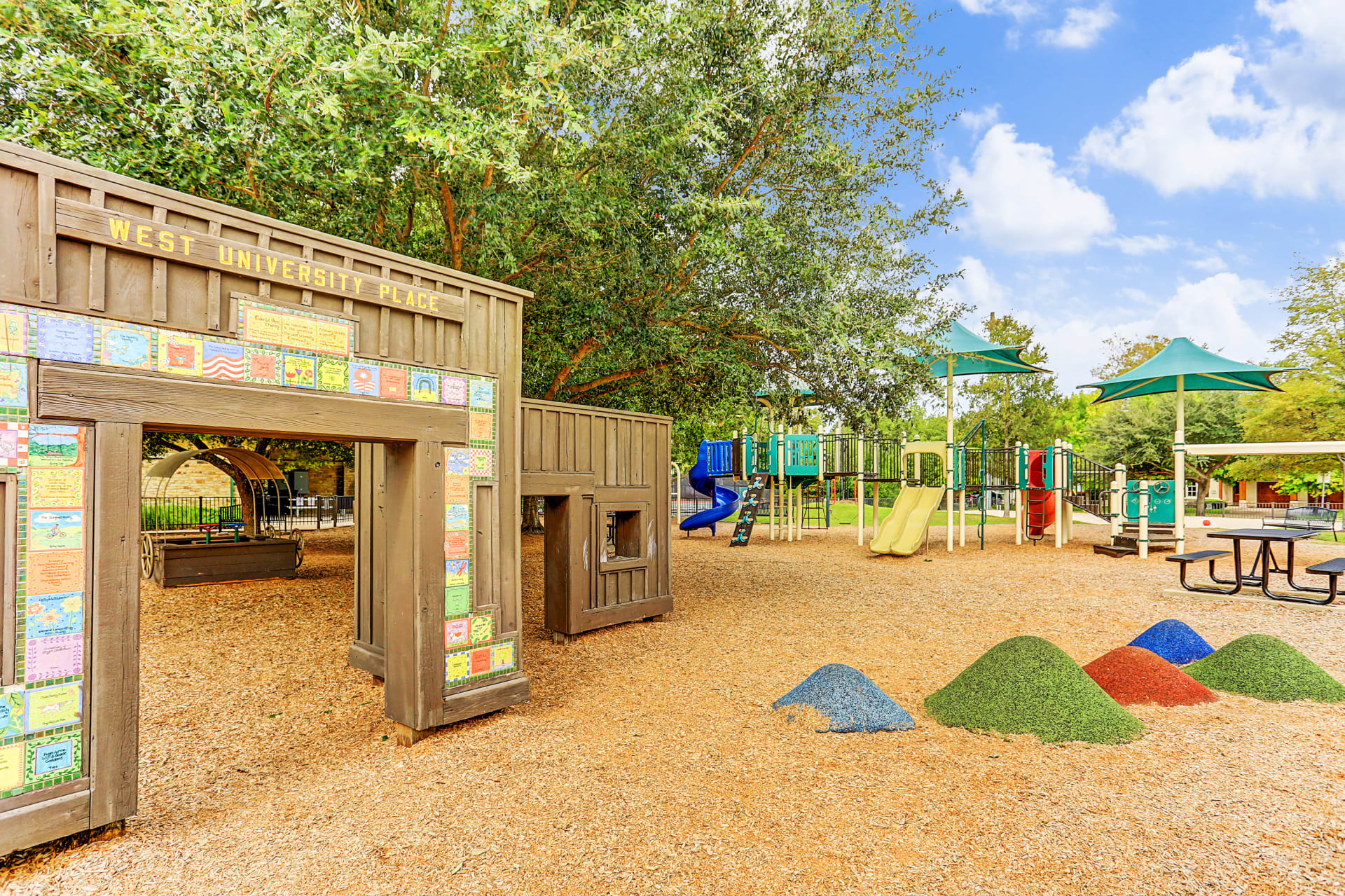 Colonial Park is one of several amazing parks in West U. Each year, a gala is held by the community to raise funds for the parks and is one of the reasons they remain so beautifully maintained.
SCHOOLS
West University Elementary is one of the highest ranked elementary schools in all of Texas and a big draw for families moving to the area.
Pershing Middle School
Lamar High School.
Nearby private schools include St Johns, AOS, Presbyterian, St Marks, St Agnes and Strake Jesuit
HOME PRICES
Land in West U ranges from around 80-170psf so the lot size can make a significant difference to the price of any home. The minimum lot size is 5000sf where you'll find 3-4 bed homes around 3000-3800sf price upwards of 1.1m for an unrenovated home built in the 80's. A larger, updated home can easily be 1-5-1.6. New construction on this lot size is currently selling in the 1.9m's. The median home price is around 1.6m. Townhomes are available in the 400-800k range,
Rentals can range from around $2500 pm for a small cottage to upwards of $10,000 pm for a larger, updated modern home. A budget of $5-7k should get you a decent sized 4 bed rental in West U.